UPDATED:  We have totally redone our bar and added Vegas Style seating for comfort, have the new lottery machine and have a new trendy look.  We have thoroughly cleaned our establishment and have done several things to prevent our staff and patrons from the COVID-19. We have spaced all of our tables and lottery machines 6 ft apart, have sanitizers at the entrance of both doors, have trained our employees on the new procedures and will have our staff wearing gloves and masks daily.
Daily Specials
Monday          $4.50 Grilled Cheese Basket
Tuesday          $5.50 Chicken Sandwich Basket
Wednesday   $5.50 Fish Sandwich Basket
Thursday        $7.75 Chicken Strip Basket
Friday              $8.75 Shrimp Basket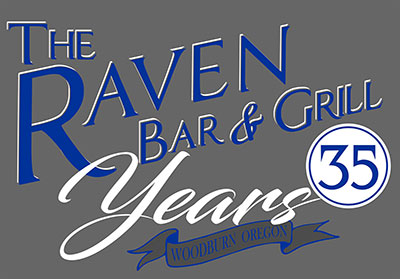 Look for our new 2021 Specials!
Don't forget your Valentine!  Party details TBD
St Paddy's Day Party! 

Specials, prizes all day!
36 Year Celebration!
Party Details TBD
Cinco De Mayo Celebration!
Party Details TBD
Customer Appreciation Party 
All day!  Date TBD
Specials, prizes 
Independence Day Celebration! Date TBD
35 Year Celebration!  $3.50 drinks and food specials from 10:00 a.m. until 4:00 p.m. 
Customer Appreciation Party
Saturday the 26th! Prizes all day! Monday & Thursday Night Football Specials during game!
Halloween Party
Oct. 31st  Starts at 7:00
Specials, prizes and costume contest
Thankful for our customers party Saturday the 21st! Prizes, specials and surprises!
Raven Christmas Party
December 19th at 7:00 p.m.
Prizes, specials and surprises for our 35 year celebration!
Housemade Infused Liquor 
3 Chili Infused Vodka
 Fresh Cucumber Infused Vodka 
Fresh Blackberry Infused Vodka
 3 Chili Infused Tequila 
Come try one of our amazing infused cocktails 
"Spicy Peach Martini" 
"Fresh Cucumber Chiller" 
"Spiked Blackberry Lemonade" 
"3 Chili Margarita" 
Celebrating 35 Years at The Raven Bar & Grill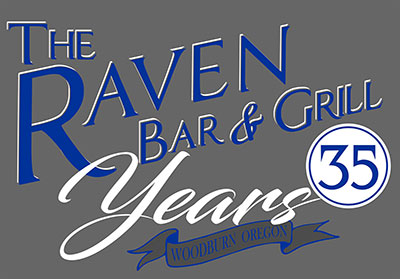 Address: 262 N Pacific Hwy Woodburn, OR 97071
Hours:
Our new hours are 10 a.m. until 10.m. Due to COVID-19 restriction by the Governor. We WILL be extending hours once we get approval.
7 days a week